The Angelo
-
A passive solar micro house with open plan living area (approx. 12' x 16') designed with center stove surrounded by living, dining, sleeping and kitchen area. This comfortable living space includes windows to let in natural light, heating and beauty of the outdoors. O

ffers an eco-friendly affordable prefabricated passive solar micro home design. Solar house plans and prefabricated home kits are available.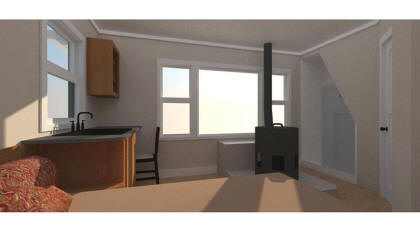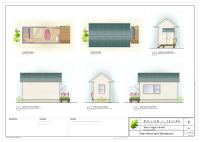 Join the excitement of providing solutions. Approx. $3,800.00 material expenses to be repaid.

All donations go directly towards completion of microhome #1. Help us create self-sustaining homes.
Approximate Material Price List:
| | | | | |
| --- | --- | --- | --- | --- |
| "Wood-Framing" Home Kit * | $ | 3,100 | | |
| Windows and Doors | $ | 1,500 | | |
| Roofing (Asphalt Shingles) | $ | 700 | | |
| Siding (Standard Economy) | $ | 800 | | |
| Plumbing Fixtures, Hot Water Heater | $ | 1,500 | | |
| Miscellaneous | $ | 4,700 | | |
| Total Materials | $ | 12,300 | | |
| | | |
| --- | --- | --- |
| * limited to partial rough framing panels and roof trusses with associated lumber materials and hardware to assemble rough framing of the structures. | | Our intent is to offer the preliminary design and various materials for the contruction, by others, of a 190 SF (18 m2) home for approximately $12,700 (labor and fees) and approximately $12,300 (materials), with a total of approximately $25,000. These budgetary estimates will vary with labor rates, productivity, materials selections, fees, etc.. |